Tweet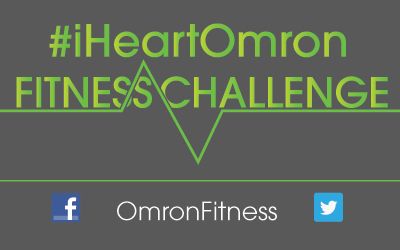 Boy, this week is like Christmas all over again, in February! On Friday I received the most awesome weight loss tool ever. My new Omron Strapless Heart Rate Monitor (HR-5ooU) arrived and like a child waiting for that very special toy, I ripped into it immediately!
I was very impressed with the sleekness of this device. In the past I have used heart rate monitors that I had to strap around my chest and make sure it synced up to my treadmill, and to be honest, it was uncomfortable and just a flat out hassle, I rarely used it. The Omron Strapless Continuous Heart Rate Monitor is just like wearing a watch. It is comfortable, easy to strap on (and it is easy to forget I am even wearing it!) This tool in addition to the Omron 510W Scale and the HJ-323U USB pedometer have taught me so much more about my body and how it works.
Any type of activity is good, but to get into that zone where you are getting the maximum effect from your workout, you really need to monitor your heart rate. I love that the HR-500U provides not only a number, but a light letting me know when I am in that zone. The blue light lets me know that I am in the warm-up or cool down period, green tells me I am in the zone for fat burning and endurance. Orange is the level for cardio fitness and red, or maximum, is when I am at my highest level or speed.
If you are like me and wondering, "how in the world does it do that?", then you are in luck, a short description from OmronFitness.com explains that this device "
measures blood flow through capillaries via an optic sensor on the wrist to determine heart rate on a continuous basis."

Pretty cool, huh?
Not only do I recommend this awesome heart rate monitor, but so does Oprah's personal trainer, Bob Greene. Checkout the video below to see what Bob has to say!
If you are looking to become more fit and learn more about your body, I encourage you to grab these 3 devices,
the
new Omron Strapless Heart Rate Monitor (HR-5ooU) , Omron 510W Scale and the Omron HJ-323U USB pedometer and get started on a journey to a healthier you!
Don't forget to join me, Mamavation and the other #iheartOmron Fitness Challenge Ambassadors on Wednesday February 20th for a twitter party celebrating this awesome challenge! For more information, visit this link!
End of challenge results:
Measurements:
Before/After:
Arms: R - 16" L - 15" / R - 14.5" L - 14"
Waist: 44" / 41.75"
Hips: (largest part of stomach): 62" / 57.5" (!!!!)
Bust: 50.5" / 47.75"
Total Inches Lost: 12 inches!!
Weight Loss: So far I have lost a total of 15 pounds!