Tweet
Hello Mamavation! Thanks for stoppin' by!
This week's post is centered arounf my first 5K that I (attempted to) run on Saturday.
There were a lot of people who participated in this race, so I was a little nervous from the get go. Bottom line, I did not finish. I didn't really explain what happened in my video, but, what happened... I started out strong running, slow, I wanted to drop to the back of the pack, being in the crowd made me feel nervous. So I got in a good stride jogging and power walking and about half way through my right foot started burning along the bottom. So I slowed to a walk for about 1/10 of a mile. I picked up the pace and started to jog again and shortly after my ankle rolled to the outside and I fell. My ankle was hurting pretty badly, I don't think it was a sprain, just more bruised. Either way, I was having a hard time walking on it much less jogging, so I was pulled to the side at a station and was bandaged and iced. Some other runners who stopped along the way could tell I was disappointed (and a newbie to the race) and gave me some insight to my injury and why it probably happened. I am extremely disappointed that I didnt finish, but I get another chance soon as I have one more 5K to do from Mamavation campaign 9. I am going to train more vigorously for the next 5K. Make sure I get my leg muscles stronger and ready to hold me up while running. I also intend to run AND FINISH this same 5K next year. It won't defeat me again...
Some pics from my day...
The picture of my feet was me standing on the VA/TN state line! I was in two states at once! Pretty cool huh?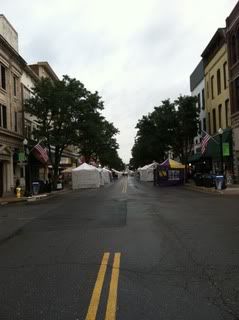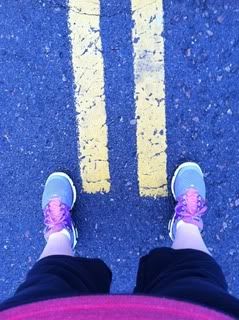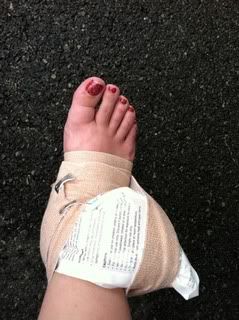 And my videos...
Pre Race
Post Race
Scale pic...