Tweet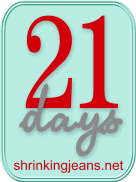 I joined the 21-Days Challenge at the Sisterhood of the Shrinking Jeans today. Basically the challenge says that it takes about 21 days to form a habit. I had to pick 3 things that I wanted to make a good habit of.
1. Drink 64 oz of water a day
2. Track Calories every single day
3. Exercise at least 20 minutes 5 x week
The challenge actually started on the 28th of April, but she says to join in at anytime, I figure I am just a few days behind, so no biggie! They weigh-in on Wednesdays, I weigh-in on Thursdays, so I will just be a day behind (or 6 days ahead!).